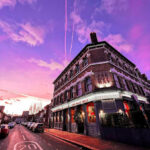 About Company
Located a 5 minute walk from Wandsworth town station, Wandsworth Town and Wandsworth high street, our nostalgic style nodding to neoclassicism is a welcoming environment perfect for a hearty lunch, a snug dinner or simply a cocktail at our bar.
With daily specials, and weekly food evenings, chef Roshan is constantly being inspired by the beautiful seasonal ingredients we're so fortunate to have available to us. Think fresh black truffle, Maldon Rock oysters, 28 day dry aged sirloin steak, and classic Young's ale battered haddock.
Inspired by the Fishmonger's Company almshouse, one of the last of the 12 medieval livery companies, our responsibility as a pillar of the community, and prosperous attitude to our food offering is prominent throughout our service and menus.
This December celebrate the festive spirit at your beloved local spot. With our enticing 3 course feasts, festive drinks, and a special Christmas Day experience, we've got your festivities covered.
Corey and the East Hill team can't wait to welcome you with open arms.