Find your dream job with Pintworks
Roles are are added daily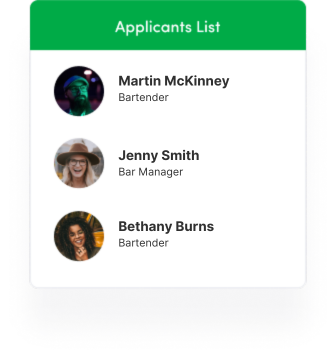 Get applications from the world best bar talents.
PintWorks is designed to allow for pubs, bars and club looking to get capable hospitality staff. 
Find bar staff looking for permanent, part-time and temp work
Post temporary work requests and see reviews of employees in order to reduce no-shows
Easily manage applicants and organise meetings in app
Fresh job related news content posted each day.
Testimonials From Our Applicants
PintWorks is the better way to find jobs in the hospitality space.
Great quality!
Without Pintworks i'd be homeless, they found me a job and got me sorted out quickly with everything! Can't quite… The team works really hard to ensure high level of quality of jobs.
Perfect!
Pintworks made it really easy to find a job when I moved to London for the first time. I would really recommend to anyone looking for a new role.
Great quality!
PintWorks made it really easy to get a job over summer when I was back from University. In the space of 2 days I went from applying to pouring pints!
Brooklyn Simmons
Summer bar staff
Great quality!
I got my dream job through PintWorks. I now get to work with the most amazing people in an industry which I absolutely adore. Thanks Pintworks.
Ronald Richards
Bar Staff
Some of the companies we've helped recruit excellent applicants over the years.
Advertise your jobs to millions of monthly users and search our vast database.