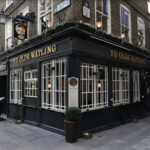 About Company
Taking pride of place on Watling Street, London, Ye Olde Watling is just a short two-minute walk from Cheapside, Mansion House Underground Station, and Cannon Street. Bank Underground Station is just a five-minute walk away.
Many of London's most iconic attractions are also on our doorstep, including the Millennium Bridge, the Royal Exchange, the City of London, and, of course, St Paul's Cathedral.
Ye Olde Watling is a great spot to catch up with friends, relax with family, chat with colleagues, and generally enjoy the finer things in life in unique surroundings near you.