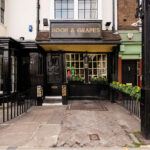 The Hoop and Grapes London
About Company
Built in 1593, The Hoop and Grapes is the oldest licensed house in the city of London.
A Grade II listed building, our historic pub is lucky to be standing today – the Great Fire of London stopped just 50 yards away in 1666! As a result, we're one of the very few timber buildings to have survived this devastating moment in London history.
Stepping into our tall, slim building feels like stepping back in time, with sash windows, low ceilings, and plenty of charm.
The pub was originally named Hops and Grapes to show it sold both beer and wine. Today you'll of course still find drinks made with hops and grapes… plus spirits, cocktails, and a great choice of other drinks on the menu.