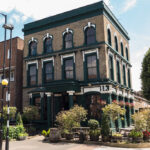 About Company
The Hemingway is a good quality pub that serves delicious no-nonsense grub.
You can see every dish being made to order in our open plan kitchen- no soggy microwaved frozen meals here! We take great care in sourcing our produce direct from the best suppliers both locally and abroad. Our menu is a mix of classic crowd pleasers and regularly changing seasonal dishes, which means you'll always find something to tempt your taste buds (even if you're in every day!).
We are a pub, not a cocktail bar and while we make a blinding Bloody Mary, and will happily mix you an Aperol Spritz or Negroni, we don't do Pina Coladas. That said, we are extremely proud of our wide range of spirits from around the globe, which (where possible) we offer at affordable prices. The wine list has been chosen to provide a simple but high quality selection that goes as well with our food as it does with some good company.